Can a teenager feel at home in a place she has no memory of living – a place where she recognizes no one, yet in the faces around her finds an unaccustomed familiarity? Maya Xia Ludtke, abandoned as a newborn in China's rural Xiaxi Town, then adopted as a baby to grow up an American, has come "home" to find out. Though her eyes, skin and height match those of the teens she meets, subtle differences stand out in Maya's body language, posture and stride – and in the way she weaves her silky hair into a braid she's draped over her shoulder.
On a walk with Chen Chen, a local girl her age, neighborhood women looking out their window see Maya approaching and come out to meet this stranger. From America, Maya tells them, hesitantly using Mandarin she learned in school. Chen explains that Maya was born in their town but raised in America. Puzzled at these incongruent pieces of an unlikely life, the women declare Maya a foreigner – the first one they've met. Inviting her inside, the women compare Maya to girls in Xiaxi and then ask about her Chinese mother, a woman Maya knows nothing about and has not come here to find.
Before long, Yuan Mengping, a girl who lives next door, appears. Mengping's grandmother had rushed home to get her after learning Maya is American. Mengping studies English in college. The women invite Maya to sit in a small wooden chair, and Mengping asks if it's okay to loosen her braid. When Maya nods okay, Mengping gently sweeps a comb through her hair and gathers it in a ponytail that she tugs tight and high on Maya's head. "You'll be more comfortable this way," the women assure her, and look like a Xiaxi girl.
What little Maya knows about her abandonment in Xiaxi she learned from pages in stapled documents handed to me when I adopted her as a nine-month-old baby in 1997. An official round red stamp certifies this as China's account of her earliest days. In the English translation, we discovered the name of the town where she was abandoned, the day when someone called the police to tell them a baby had been found, and the age they estimated her to be. This information set the date when Maya had celebrated 16 birthdays with American family and friends.
Before she was 10, Maya was already becoming acquainted with Chinese culture and language with a group of adoptees in Sunday afternoon classes that the parents had arranged. In learning pinyin, the phonetic transcription of Mandarin Chinese, she found out how to give characters their proper tonal sound. Soon, Maya could pronounce her middle name, Xia, with the swish of a thin "S," as in "Sha."
If her birth family had not abandoned her, Maya knows she might have been the daughter of a farming family in rural China. She was drawn to return to Xiaxi to explore the girlhood she didn't have. Maya's friend Jennie, who was abandoned in a rural town near Maya's during that same September in 1996, is traveling with her. The two of them spent nine months together in the orphanage in Changzhou before being adopted by moms traveling in the same adoption group. The girls grew up as friends and are companions on this journey to get to know girls who might have been their neighbors and playmates.
Home
"Do you feel an emotional attachment to Xiaxi?" Maya is asked, as she rides to Xiaxi for her first visit as a teenager.
"I actually didn't know the name of the town until recently, so not in that way," Maya says. "But it's the place I came from, so I guess so."
"When people ask where you come from do you say Xiaxi?"
"I haven't," Maya replies, "but I don't think anyone has asked me since I found out what it was called."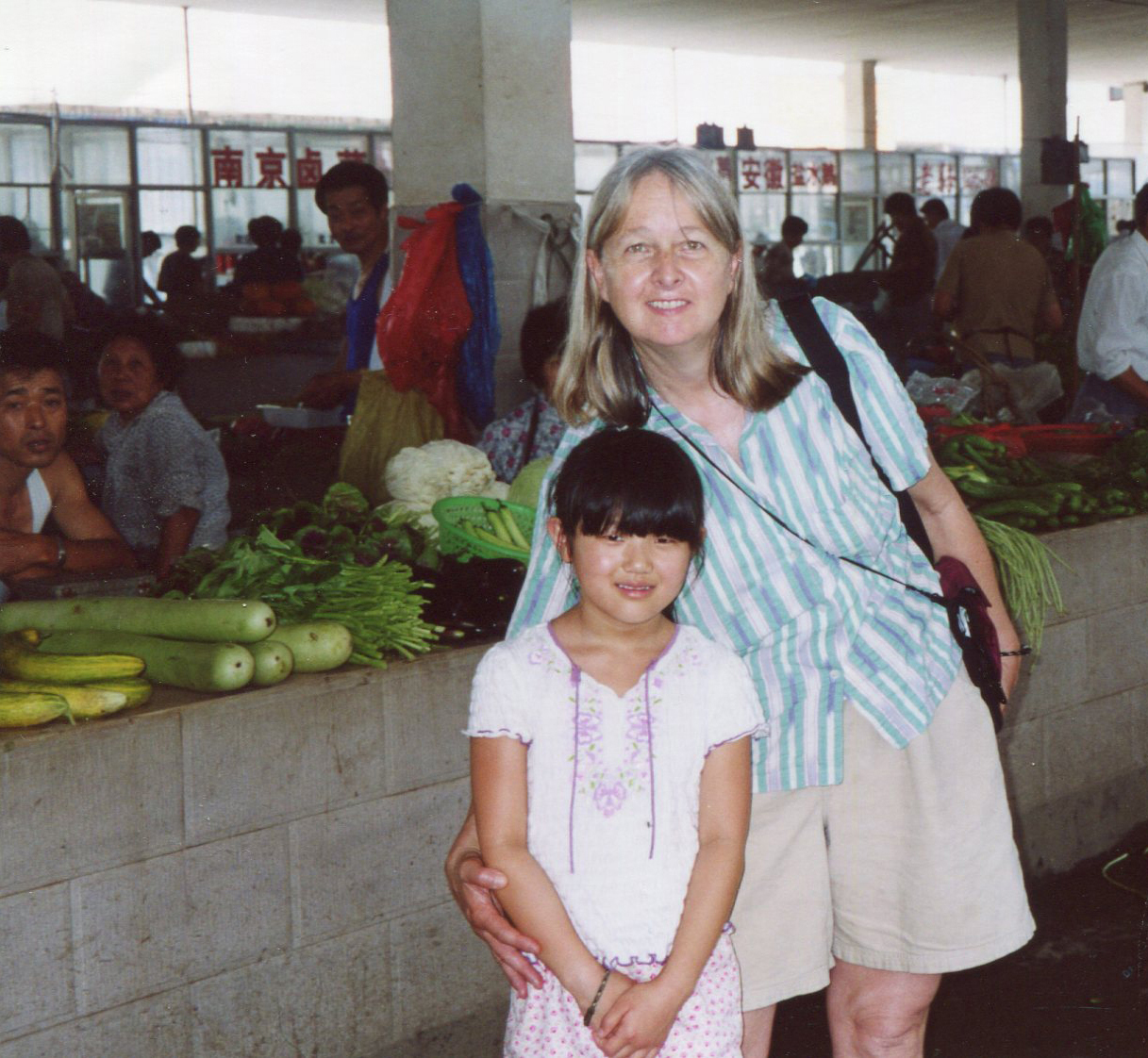 Maya is pensive as she gazes out the car window watching Changzhou pass by. "Usually I just say Cambridge because it's where I live," Maya says. "I hadn't thought of saying Xiaxi."
Maya was seven years old when I brought her back to China for the first time. We spent most of our three weeks there doing things tourists do. But toward the end of our trip, we traveled by train to Changzhou. I wanted Maya to visit her orphanage. After what I felt was a good visit there, I had the idea of taking a trip to Xiaxi Town. That morning our driver parked the car on Xiaxi's main street, and Maya and I got out to walk through its bustling outdoor market. The merchants and customers stared at us. We were an odd pair that left a disconcerting impression. There I was, a woman with blonde hair and white skin, a rare sight for them other than on TV, and I was holding hands with a Chinese girl whose expression said, "I'm scared." Likely, many wondered if I had kidnapped her.
A few people approached Maya and spoke in a language she didn't understand. Perhaps they were asking if she was okay. She froze, unable to say "hello" as she'd done routinely in China. Maya gripped my hand tightly, and as she did I knew we had to leave. After completing the oval path past stalls of vegetables, meat and fish, we went directly to the car. Take us to our hotel in Changzhou, I asked our translator to tell the driver. That afternoon, Maya and I stayed in our room. She didn't want to go out. In thinking over what had happened in Xiaxi, I knew that what I wanted most for Maya was for her to return to Xiaxi on her own one day — and feel less of an outsider when she did.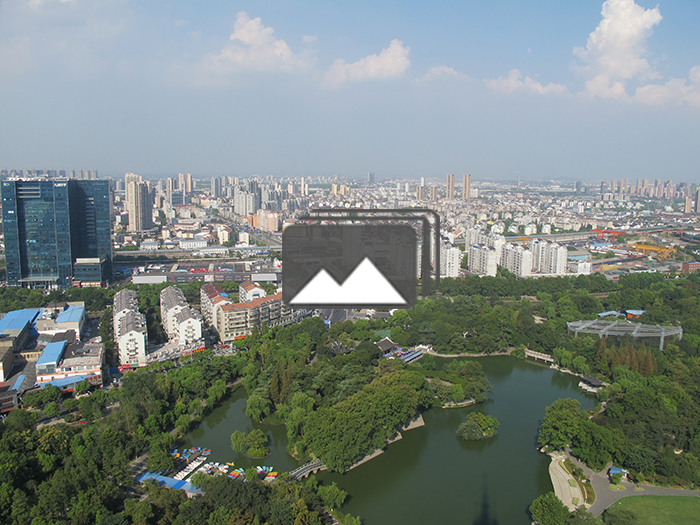 Now 16 years old, Maya is in Xiaxi spending time with girls her age. I'm staying behind in Changzhou. This is Maya's journey to make, not ours.
Getting to Changzhou had taken us five hours on a bus from Boston to New York City, a van to JFK airport, a flight to Tokyo and another to Shanghai, and a bullet train whizzing us to Changzhou, one stop short of Nanjing, the capital of coastal Jiangsu province. On their first morning in Changzhou, a 25-kilometer car ride delivers Maya and Jennie to Xiaxi, the town Maya left twice – first as a baby born to a Chinese mother, and then as a girl clutching her American mother's hand.
On this unbearably hot August morning, their car eases into the slow flow of traffic on one of Changzhou's multilane boulevards. Designated bus corridors and rows of planted trees divide its wide streets. Businesses on either side shout out familiar names – Hermes, Burberry, Starbucks, McDonalds – as the girls sit in clogged traffic. Changzhou is a prefecture-level city that nearly five million people call home. Its roads were not nearly so wide or busy when the girls lived at the city's Social Welfare Institute along the southern bank of the Yangtze River. The orphanage has changed its location twice since then. As the car takes them outside the central city, urban sprawl expands into what was farmland when they were born. Concrete shells of high-rise apartment buildings wrapped in green netting hug this highway connecting city residents to diminishing rural enclaves.
Once off the highway, the car turns onto narrow tree-lined roads. As they enter Xiaxi, two-story concrete homes dot a landscape sculpted by fields lush with trees and flowers. Those familiar with China's flower industry have heard of Xiaxi, a town of about 40,000 that ranks among China's leading sellers of flower seedlings.
When their car stops, Hu Xingmei, Xiaxi's middle school English teacher, greets Maya and Jennie and escorts them into her mother-in-law's living room. Hu stays there when school is in session. On weekends and vacations, she lives at her family's apartment in Changzhou, where her 17-year-old daughter, Xue Piao, also lives while she finishes high school. Hu met and married her husband in Xiaxi, which is where Piao attended primary school. Piao's father works as a chemist in a faraway city and is rarely in Changzhou or Xiaxi. Mostly three generations of women have spent time together in recent years – Hu, her daughter, and her mother and mother-in-law.
Maya and Jennie sit close on the couch in the corner of the living room. Their proximity reminds me of their time as babies in orphanage cribs that touched end-to-end. Neither girl needs to explain the emotions she is experiencing. The girls have shared many stages of their life journey – from being abandoned as newborns to growing up in Caucasian families near Boston. Now each has come "home" in search of those parts of herself that she might find in a tiny town in China. In another part of the living room, Jane Liu, who is translating for the girls, is talking with Yan Yujiao on her cell phone, trying to figure out a place for Maya and her to meet. Yujiao is one of the girls who expressed interest in getting to know Maya when she came to her town. Maya whispers in a voice so soft that Jennie has to lean in to hear: "The towns we would have grown up in, the people we might have met..."
Perhaps Maya meant only to exhale but instead let her feelings escape, releasing anxiety about being introduced to Yujiao. Maya's journey of discovery, once contemplated from the safe distance of 12 time zones away, is about to begin. Meeting Yujiao will signal the start of nearly three weeks when Maya and Jennie have the chance to fit new pieces into the puzzle of their dual identity as Chinese daughters in Caucasian families.